4 Inspiring Examples of Category Heuristics for SaaS Marketing
With an abundance of choice and limitless information, the path to purchase is becoming increasingly complex and unpredictable.
To sway potential customers, SaaS marketers need to understand what influences and biases affect people in their decision-making process.
Category heuristics is a very powerful cognitive bias that, used wisely, can help answer shoppers' questions, ease their minds, and nudge them to convert.
Let's take a look at the basics of this bias and explore how other SaaS brands use heuristics in their digital marketing.
What Is the Meaning of Heuristics as a Cognitive Bias?
Heuristics allow us to quickly solve problems and make judgments more efficiently, while also delivering a level of confidence that the judgment is correct. In the context of digital marketing, this can help shorten a prospect's decision-making time by allowing them to explore fewer pieces of information.
Heuristics are utilized in marketing in the form of short descriptions of key product/service features, specially designed to simplify purchase decisions.
Why Use Heuristics in SaaS Marketing
When purchasing a SaaS product, customers will explore their options thoroughly, ensuring they don't end up with something that isn't good enough or doesn't quite fit their needs. Their buyer's journey involves exploring and evaluating, browsing different brands, comparing features and prices, and reading reviews.
This long loop of exploration and evaluation is known as the 'messy middle' of the buyer journey. The 'messy middle' loop is the space between triggers and purchase – the core of a prospect's decision-making process.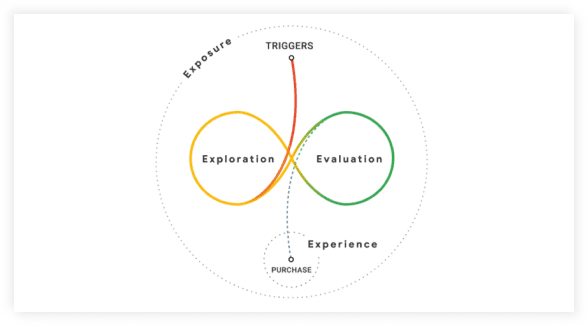 To help potential customers exit the loop, marketers need to understand how cognitive biases influence their purchase behavior and decision-making.
Category heuristics are among the most powerful biases that, as seen in Google's report, achieved the largest or second-largest effect on switching preference from favored to less favored brands in 14 of 31 categories.
Leveraging this bias is a good way to provide prospects with the bits of information they need to make a decision and exit the 'messy middle' loop.
Category heuristics can further help SaaS marketers:
Make data easier to access
Simplify the weighting of information
Integrate less information in the decision-making process
Narrow down alternative choices
Heuristic Model of Decision Making: How to Choose Which SaaS Features to Display
For SaaS start-ups and challenger brands, category heuristics is a great bias to start with. It often takes less time to implement in your digital strategy, compared to biases such as social proof and authority bias.
One of the best ways to leverage the heuristics bias is by building head-to-head comparison landing pages, showing feature comparisons between you and your competitors. This way, instead of making prospects do their research, you're bringing the research right to them.
To see success, you'll need to focus on the features that make your product or service comparably better than the others.
When getting started, consider asking yourself these three questions:
Which product characteristics are top-of-mind for my users?
What features would my users value the most?
How do I compare against my competitors? Do I level up and can I put my brand in a side-to-side comparison?
Category Heuristics in Action: Examples of Heuristics From Top SaaS Brands
We've rounded up some of the best SaaS category heuristics examples. Specifically, we'll look at:
Table of contents:
Interactive Use of Category Heuristics
Miro is an online whiteboarding platform that allows teams to collaborate and work effectively together. What really makes their features page stand apart is its interactivity.
One of the best ways to leverage the category heuristics bias and explain a visual platform's features is to demonstrate them in an interactive way. Miro has done an excellent job at grabbing the visitor's attention and showing them how the features work in action.
Source: Мiro.com
Using Heuristics in Head to Head Competitors Comparison
ClickUp, a cloud-based collaboration and project management platform, has built a page for comparison against one of their most prominent competitors – Trello.
Here, the product marketing challenge is to show why ClickUp is actually a better alternative. Their extensive head-to-head comparison page is displaying those reasons in a visually captivating way, while effectively utilizing category heuristics to show visitors all the features they'd get for free in ClickUp.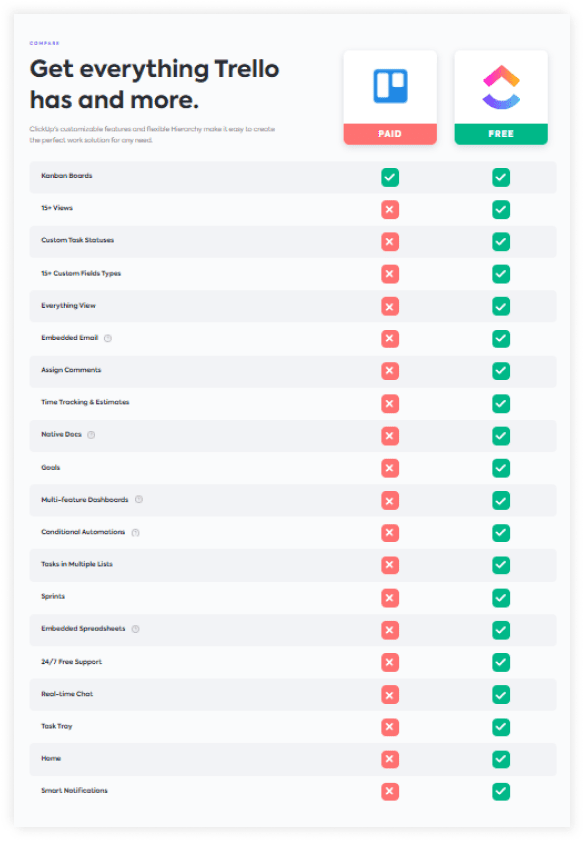 Source: Clickup.com
Zoho sells CRM software to help businesses manage their sales, marketing, and support in one platform.
As seen in the example below, Zoho has picked a fairly straightforward way to compare its features to those of three other competitors. While simple at first glance, the table makes it easy for prospective clients to quickly digest what the product offers and how it stands out from the rest.
For those interested in learning more, Zoho also offers an in-depth CRM comparison with each competitor, as well as a price comparison chart.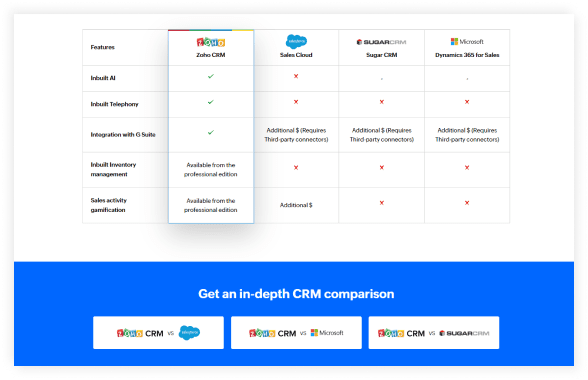 Source: Zoho.com
Combining Heuristics with Other Cognitive Biases
Appy Pie is a no-code application development platform that has successfully integrated multiple cognitive biases on its website.
Instead of showcasing feature comparisons first, the platform has integrated the social proof that customers have left on G2. By doing so, Appy Pie is leveraging a combination of category heuristics, social proof, and authority bias. What's even more, because the reviews are coming from a reputable third-party review platform, they are also perceived as more objective and authentic.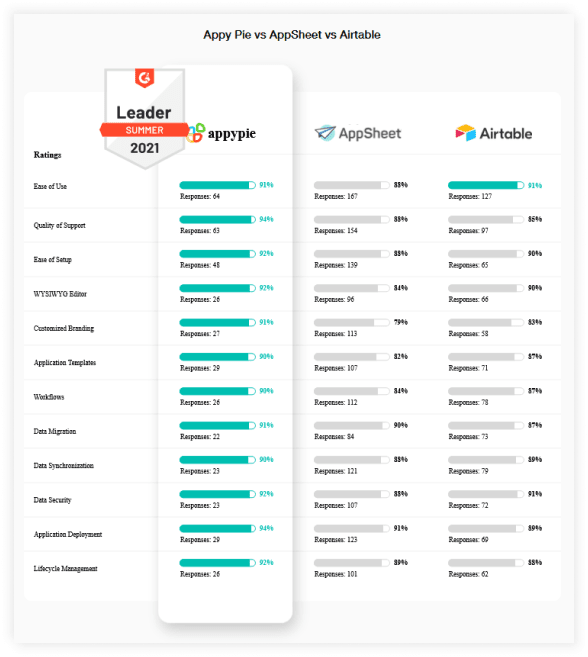 Source: Аppypie.com
As visitors scroll further down the page, they are presented with an extensive comparison table that highlights Appy Pie's features in comparison with four other competitors, followed by client testimonials and brand hallmarks.
Put Heuristics to Work In Your SaaS Digital Strategy
Cognitive biases influence our thinking in many different ways, especially when we're trying to make a purchasing decision.
Learning how to incorporate category heuristics in your digital marketing strategy can help you sway potential customers, increase conversions, and grow your business.
Feeling inspired? Head over to our blog and learn how to make customers convert faster with the power of free bias.