How to Build Brand Awareness: ClickUp's Video Marketing Strategy
Brand awareness is incredibly important for meeting your overall marketing goals and achieving business success.
While you want prospects to know your name, you should also make sure they know that your brand image is aligned with their values. Arguably, one of the best ways to do that is with video marketing.
Video is a powerful marketing tool. It's more engaging, memorable, and popular among users than any other type of content.
Let's take a deep dive into a real-life example of how to use video marketing to build brand awareness that hooks the audience.
ClickUp in a Nutshell
Simply put, ClickUp is a cloud-based collaboration and project management tool. It features a number of core functionalities, including task management, workspace customization, team collaboration and reporting, and third-party app integration.
One of ClickUp's main goals is to help businesses stay productive, which is why they offer an array of different features, such as task priorities, assigned comments, goals and targets, reminders, as well as track time and task timer.
How to Build Strong Brand Awareness
On a very basic level, brand awareness shows how familiar your target audience is with your brand. Establishing brand awareness is crucial when marketing your company and products, especially in the early stages of your business.
When you want to make a lasting impression on potential customers, video can really help you stand out in a memorable way. After all, video can communicate a story much faster than words.
With over 2 billion daily users, YouTube represents a huge opportunity for businesses to connect with prospective customers. Here's how ClickUp managed to make the most out of the platform.
Invest in YouTube Branded Videos
There's no doubt about it – branded videos are a great way to capture your brand's essence, make your business more human, and allow your audience to identify and relate to your brand.
If you have branded videos on YouTube, the platform will display them on top.
On ClickUp's YouTube page, these branded videos are around 30 seconds long. The ones with the most views (4 million and 7 million) were launched when the company started investing heavily in branded videos, about 6 months ago. Based on the high number of views, these ads were likely fueled by a rather extensive advertising budget.
ClickUp's branded videos are an excellent example of top-of-the-funnel content aimed to get people to know the brand and, at the same time, touch on a pain point.
When it comes to finding new leads and customers, pain-point SEO can work wonders. Pain-point SEO is a strategy that can help you increase traffic to your website by identifying problems your prospects are facing and then creating content that solves those issues.
Leverage the How-to Format
The goal of many SaaS products is to make something that is complex, simple. This is why adding tutorials to your video strategy is an important part of helping current and future customers better understand the value of your product.
On YouTube, ClickUp is sharing short and informative tutorials that show people how to execute important tasks (e.g. build a form, create a table view, use slash commands) and encourage them to engage with some of the more common features.
These tutorial videos are most likely aimed at people on free trials or their freemium part of the buyer's journey, and for good reason.
YouTube is one of the most popular platforms for people looking to learn something in a quick and engaging way. Executed well, product tutorials can help move users quickly down the funnel into buyer consideration.
What's even more, because they show viewers how the product works in real life and what they can expect, tutorials also help sell your products without sounding like a sales pitch.
Plan and Post Webinars
While they may not be a new thing, webinars remain a tried-and-true tactic that drives results for many businesses. Compared to other types of video content, webinars are much longer (around 20 to 55 minutes).
Along with branded videos and tutorials, ClickUp's YouTube page features webinars, as well. These are likely targeting people in remarketing funnels, specifically those who have not signed up for a free trial yet, but have some engagement with the brand and are considering getting started.
Traditionally, webinars are very persona-driven, middle-of-the-funnel content. They give you plenty of time to demonstrate your purpose and value proposition, and can be used as part of your strategy to build remarketing lists for search ads.
ClickUp's webinars, for instance, are clearly focused on specific use cases and different personas who have different use cases. These range from finance experts to designers, event planners, and even marketing agencies.
Create a Series of Short Video Tips
Another interesting type of content that ClickUp is leveraging on YouTube is a series of short-form videos. These bite-size videos are just under 2 minutes and include various tips that serve as complementary to the tutorials.
This type of content is designed to help people get better at using ClickUp and can be pushed out quickly with skippable ads to people who are in the freemium stage.
Overall, short-form videos can be incredibly effective because they don't require a large budget, yet they offer an engaging way to connect with your audience.
What We Can Learn From Clickup's Strategy
Eventually, many SaaS businesses reach a point where they have squeezed every possible drop out of the bottom-of-the-funnel, which is typically paid search.
Just like in ClickUp's case, having gotten in front of all those people that have purchase intent, means that you need to start moving up the funnel and building a brand, including brand awareness.
A hidden gem here, that not many SaaS brands realize, is that, if done right, brand awareness can bring a significant increase in brand search.
ClickUp has managed to do just that.
Achieving a Major Increase in Brand Search
One of the easiest ways to demonstrate how brand awareness contributes to an increased brand search is by heading over to Google Trends.
On the platform, let's look at ClickUp versus three of their more prominent competitors (Asana, Trello, and Smartsheet). Selecting YouTube search, you can see that 6 months ago – right when ClickUp started launching and putting serious ad budget behind the brand awareness videos – the brand search spiked up. The company was able to sustain that position for a while and, over the last 6 months, their investment has come down.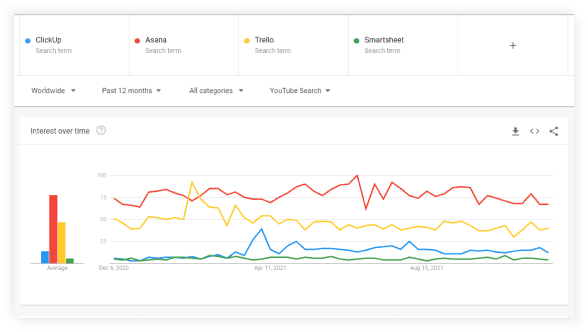 For that brief period, however, ClickUp almost closed the gap with Trello in terms of YouTube search.
Going to ClickUp's SERP on Google, you can see that ads are taking up a large chunk of the above-the-fold space. Perhaps unsurprisingly, a lot of searchers are really not going to differentiate between an ad and an organic result, making branded keywords the cheapest paid conversion you can get.
Enhance Brand Awareness and Drive Growth With Video
ClickUp has done an outstanding job at investing in brand awareness videos to not only boost the awareness but also capture the demand when it moves over to search intent.
All in all, no matter what industry or vertical you're in, a solid video strategy can help you promote and boost your business in fresh and effective ways.
Ready for more video marketing inspiration? Here's how you can drive growth with YouTube SEO.