14 Creative Ways to Use Insta Stories Better Than Your Competitors
Published on
With over 1 billion people using Instagram every month, it's clear that the platform is an incredibly helpful tool. Not only can you build brand awareness, but you can also show people what your business is all about.
Instagram Stories (or Instastories) currently boasts more than 500 million daily users. With its 24-hour, self-deleting image/video feature, Instagram story (specifically for businesses) provides a great way to get your message to followers who might miss regular posts.
Here are 14 Instagram story ideas for businesses you can use to surprise your audience and blow away the competition and creative ways to use social media for business.
#1: Design a Branded Instagram Story Template
Generally speaking, the Stories templates are layouts with text, graphics, or animations that you can customize to fit each story. Unless posted to your Story Highlights, Stories disappear after 24 hours, so it might not always make sense to have a professional design for every single photo or video.
If you plan on regularly posting certain types of content, creating an Instagram story template is well worth it. Branded Stories templates can help you stand out from the crowd and show your customers that you've put considerable time and thought into your content.
Tip: By using similar fonts and colors, you can create on-brand stories that are recognizable and keep in line with your business. You can also make use of several different templates, as long as they're all related to the branded theme.
#2: Create Branded GIF Stickers
GIF stickers are essentially GIFs with transparent backgrounds. Users can attach them to their stories or direct messages.
On Instagram, the GIPHY library provides thousands of moving and static graphics to choose from, but did you know that you can add your own GIF stickers, too?
One of the most effective ways businesses can add a unique touch to their stories is to create branded stickers of logos, slogans, and/or products. GIF stickers are also a great way to upgrade your shots, highlight your call-to-actions, and show the fun side of your brand (without interfering with your carefully curated feed).
Having an in-house graphic designer is best, but if you can't partner with one for this task, don't worry – there are plenty of online tutorials to help you create the perfect set of Instagram story stickers.
#3: Make a Story Your Followers Can Screenshot
Creating Instastories that your audience can screenshot and use is a quick and simple way to drive interaction.
You can, for instance, ask people to "fill in the blanks". Users take a screenshot of your story, fill it in, and repost it on their stories or feed. Depending on your business, you may ask viewers to share things such as their favorite beauty tricks, best music finds, or favorite films of the year.

Source: BookRiot
You can use this screenshot-and-repost strategy to gather further insights about your target audience, gain exposure, or just have a little fun. To collect results, don't forget to ask your followers to tag you in their stories when they post them. Otherwise, create a branded hashtag that they can use.
#4: Use Instagram Story Polls
Using polls in your Instagram Stories is yet another great interactive option. Implement them into your creative marketing strategy and use them for customer feedback, market research, or simply for entertainment.
Since Instagram story polls are only live for 24 hours, it's essential to make them engaging and then keep track of the results. View responses and see who participated by simply swiping up on your story.
Tip: There are plenty of great Instagram poll ideas to help you increase your engagement. Depending on your business, you can ask for your followers' opinions on different colors or patterns for a product, or even when/where you should host an event.
#5: Have a Creative Reaction Slider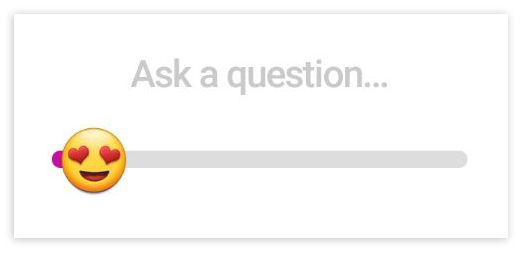 Instagram story sliders (similar to the poll stickers), allow you to ask viewers a question and see the results as they answer. Instead of voting 'yes' or 'no', users can drag the slider to submit their response.
Don't be afraid to get creative and use the reaction slider in new and unconventional ways. Most brands use the feature with heart-eyes emoji to see how much the viewers like a certain product or service. However, you can try placing the slider sticker vertically (instead of its usual horizontal position) or add different emojis, levels of preference, or numbers alongside the slider.
Tip: Your audience wants to know that you are listening. Remember to post the results in the end.
#6: Ensure a Consistent Story Highlights Section
Think of Instagram Story Highlights as an extension of your brand's bio. They're front-and-center on your profile, which makes them perfect for visitors to discover more about you.
Consider grouping your IG stories together into various topics /categories and use them to show users who you are and what you do. You can highlight products, services, events, campaigns, tutorials, and even testimonials – the sky's the limit!
#7: Run an Instagram Stories Takeover
An Instagram takeover is when a person (or brand) temporarily takes over your account to create and share content with your audience. The takeover host is most commonly an influencer or a celebrity, but it can also be a staff member or even a big fan.
Hosting an effective Stories takeover can help businesses build their brand image, boost engagement, and reach new followers organically. Some Instagram takeover ideas to try include sharing a sneak peek into the host's life for a day, taking your viewers behind the scenes/to an event, and hosting a Q&A session.
Whatever type of Instagram takeover you choose to run, ensure that the collaboration has an authentic feel by giving your host some creative freedom.
#8: Think About Your Visual Storytelling
The real power of storytelling lies in its ability to deliver engaging messages. Unsurprisingly, Instagram is incredibly well-suited for encouraging visual aspects of your story.
Instastories are supposed to be short and sweet, so narrating your story using this feature can be challenging. Using it as a tool to power your brand storytelling, however, may be easier than you think.
Because being authentic is a key aspect of storytelling, consider live videos, short testimonies from fans or team members, and behind the scenes looks. Another idea to try is curating user-generated content by sharing short stories from your community through photos and videos in your Stories.
#9: Deliver Branded How-To Videos
Consider your business' niche and what your audience might enjoy learning or what they're struggling with. Once those are established, go ahead and create short branded videos such as how to's, tutorials, and tips-and-tricks videos.
No matter what your business offers, creating educational videos and saving them to your Highlights section will help build a unique library of evergreen video content.
#10: Have a Boomerang Day
Great stories can be told in seconds, which is where Boomerang comes into play. The video app takes several photos simultaneously and stitches them together in a loop, similar to a GIF.
Inspiration for great Instagram Boomerang ideas can be something as simple as everyday situations – dancing, jumping, or enjoying a meal.
#11: Run Limited Time Offers (Countdowns)
The countdown sticker is a feature that enables you to promote in-store sales, product launches, or events. But why not use it to build anticipation and run offers that expire when the story does (e.g. "24% for 24 hours")?
As a bonus, this feature lets viewers set reminders, allowing you to observe engagement and how to build a stronger community.
#12: Use Quotes with No Sales Intent

Quotes require little commitment, but when used strategically, they can give your business – and your brand message – more visibility.
Inspirational quotes are one of the most impactful types of content, making them a go-to when it comes to creating non-promotional Instagram posts. This doesn't mean you should limit yourself to only posting motivational-type quotes. Add text that focuses on education, industry trends and leaders, valuable insights, statistics, and humor.
#13: Consider the Luxury Strategy
A luxury strategy aims to create high brand value and pricing power by leveraging intangible elements of singularity (think craftsmanship, heritage, prestige). A key element is to express your creative identity and give your brand a sense of uniqueness and authenticity.
While this strategy is most popular – and relevant – in the luxury market, don't be afraid to implement some of its basic principles, even if you operate in a different market.
To really make your Instagram Stories pop, avoid using text (except for logo), tease with (extreme) minimalism, don't try to sell directly, and use high-quality, movie-like content.
#14: Show Your Audience Heroes They Can Relate to
Featuring 'relatable heroes' (such as your best employees) in your Instagram story can yield significant results. After all, your team has first-hand knowledge of your business and a true understanding of your products or services.
Whether you're sharing company events or the latest industry news and trends, include your employees or representatives. Customers love seeing what happens behind the scenes, and you can simultaneously gain credibility, humanize your brand, and solidify your company image.
Gain Brand Exposure Through IG Stories
Instagram Stories is quickly turning into one of the best channels to grow your business. With the platform adding more and more new features (such as Stories showing up in the Instagram Explore tab), benefits like gaining exposure, brand recognition, and getting more followers are hard to ignore.
Your Instagram Stories will be one of the first things users see, so make sure you devote enough time and care to craft them. By incorporating our Instagram story tricks with some creativity, your brand will be on its way to Instagram success.
Still not sure how to grow your brand on Instagram? Get in touch and discover how we can help you utilize social media platforms to reach your business goals.