Your Essential SEO Toolbox
Succeeding with SEO in SaaS is not an easy task. With a limited budget for SEO tools and so many options available to help you find the right keywords and links, choosing your essentials can be a bit overwhelming.
Here are the essential SEO tools we couldn't live without – we managed to whittle the list down to three digital tools you can use immediately, one of which is free.
Essential SEO Tool #1: Google Search Console
No doubt about it, Google continues helping businesses thrive with their SEO and analytics tools. One of the must-use ones is Google Search Console. You can use this free platform to measure your site's organic traffic and performance, fix issues, tune it up, and identify opportunities.
Google Search Console gives you reports on technical issues that need immediate repair. Another standout feature is that it monitors your indexation levels to make sure you're still properly visible in Google Search.
With GSC, you can check which are the top-performing pages on the website, as well as the under-performing ones. Having Google show you which of your pages aren't ranking is really useful when you don't have limitless resources, and you need to decide on pages to optimize. Even then, it can take weeks and sometimes months to see those results play out on Google.
To choose which pages to optimize using Google Search Console, you have to look at the impressions and clicks of different URLs and also the keywords they rank for. If you still feel unsure how to do this, you can check out our full guide on content optimization, where we show how to use GSC for this purpose.
Page by page, Google Search Console also shows the top search queries – how people search when they discover your website on Google. With these insights, you can enhance your page content to make your pages more discoverable and help them rank even higher.
Essential SEO Tool #2: Ahrefs
How many backlinks is your website getting? Backlinks have always been a very strong ranking factor, so monitoring your inbound links is vital for SEO growth and performance. Ahrefs is a great platform to use to check those links automatically. It's only part of what this all-in-one SEO toolkit can do for you, though not free.
You can get a free 7-day trial of Ahrefs for only $7. Afterward, you have to pay a monthly price for the service, with the cheapest tier (of four) being their Lite plan at $99. The most expensive is their comprehensive Agency plan at $999 per month.
Ahrefs started off primarily as a link-checking tool but expanded greatly, and now there's a pretty fantastic SEO tool with multiple useful functions that we are using 24/7.
Ahrefs helps you analyze your keywords to make sure you're targeting the right topics. It comes equipped with a SERP analysis option, so you can immediately see your top competitors for that keyword. Talk about having an invaluable SEO tool, albeit at a price.
Ahrefs has a great site analysis tool as well, where you can look at metrics for both your site and your competitors'. Another feature of Ahrefs is their content explorer, which allows you to research topics and greatly enhance the quality of new content that you're planning. The content explorer is also very helpful if you're trying to do link building. You can get to know more about how to do link prospecting right and which tools to use.
Of course, Ahrefs is a particularly powerful SEO tool for analyzing your backlink profile. You can see how many and what domains link to your website, from and to which pages, as well as historical data for new and lost backlinks.
When you analyze your site, there should be a correlation between the backlinks trend and organic traffic. For example, if you're gaining links and the curve is going up, you can expect to see a similar trend in raising organic traffic. If, however, your organic traffic is dropping despite the fact you're still steadily acquiring backlinks, that can be a signal for an SEO problem on the website.
Still, keep in mind that Ahrefs is not the ultimate best SEO tool for everything. For example, in a previous article, we compared the keyword difficulty scores of some of the most popular keyword tools and reached the conclusion that Ahrefs' methodology for assigning keyword difficulty scores is a bit off. We dived deeper into the methodology of these scores and realized that Ahrefs' is based solely on backlinks, and they only use the average number of referring domains within the top 10 ranking pages.
Essential SEO Tool #3: Screaming Frog
Screaming Frog is a technical SEO tool that crawls your website, gathers key onsite data, and organizes it in useful ways for analysis. It basically tells you what a search spider would see when it crawls a website.
Their SEO Spider can find and indicate any broken links (404s) and server errors. It allows you to map out all temporary and permanent redirects, as well as redirect chains and loops that you'd need to fix.
Among its multiple useful features is the ability to discover exact and near-duplicate content and find low content pages. Screaming Frog SEO Spider can also quickly generate XML Sitemaps. It also analyzes page titles and meta descriptions so you can see which ones are too long, short, missing, or duplicated across your site.
Another less common way to use Screaming Frog is to visualize your site's architecture. The tool discovers how pages are linked together and support each other – especially important if you're building up a pillar-cluster model with your content. Plus, it can help you identity orphan pages,
Here is how Hop Online's website looks to Screaming Frog: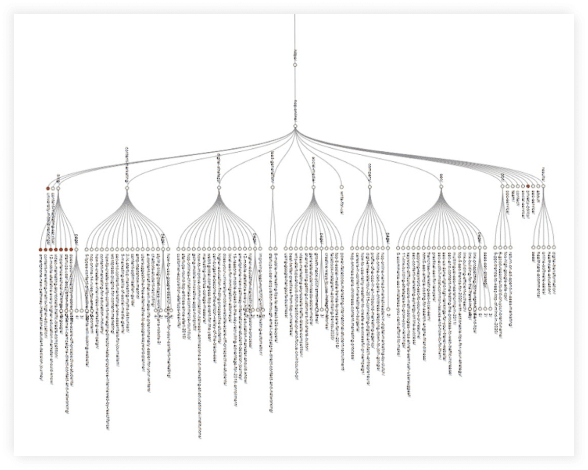 As you can see, Screaming Frog is very handy for SEOs to make informed decisions. While there is a free version of Screaming Frog, it is missing many of the great features there are. The paid license costs around 200$ per year.
It is also a good practice to crawl your website every 6 months or even once a month if your site is large.
I hope this was useful to you. For more killer SEO strategy tips, tools, and checklists, continue reading our SEO blog.