We partnered with IvyWise to create a comprehensive marketing strategy that balanced experimentation with efficiency. We implemented various strategies across different PPC platforms: Google Ads, Facebook Ads, TikTok Ads, Spotify Ads, LinkedIn Ads, and YouTube Ads. Our ultimate goal was to maximize ROI and ensure IvyWise's success in the competitive landscape of PPC advertising. In Q3 2023, we achieved a 3x increase in ROAS.
Challenges of IvyWise
Before we started working with IvyWise, the company struggled to increase its brand awareness on social media and generate a consistent stream of high-quality leads through paid search. The IvyWise team had the necessary sales capacity to effectively convert leads generated through paid marketing efforts. However, the company needed expert guidance to manage the paid marketing campaigns they envisioned. Through an experimentation-driven approach with our agency PPC experts, we successfully nurtured the growth of IvyWise's account, achieving unprecedented levels of ROI.
Our Strategy
We took hold of the account in September 2021. Within a year, we tripled our budget and added other channels in the marketing mix.
Google Ads
In our Google Ads strategy, we implemented a comprehensive approach to ensure full coverage in Google Search.
We leveraged the following campaign types:
A Performance Max (Pmax) Campaign targeting the Top of the Funnel (ToFu) and Middle of the Funnel (MoFu) audiences;

A Generic Campaign tailored for Middle of the Funnel (MoFu) prospects;

And a Branded Campaign geared towards the Bottom of the Funnel (BoFu) audience.
Here's what we've done:
1. Audience segmentation & testing:
We conducted extensive testing by marketing three distinct services offered by IvyWise, each tailored to cater to distinct target audiences: parents with toddlers, parents with high-school students, and a unique audience comprising college students themselves. This tactic highlighted that one of these audience segments was significantly more active and engaged within Google Ads.
2. Creative testing: within PMax and with custom LPs to cater to the winning audiences we've identified:
We applied custom landing pages (LPs) to our Performance Max and Generic campaigns which significantly boosted the campaigns' performance.
We also started developing the creatives for IvyWise's Pmax campaign. And we underwent three major creative refreshes. The creative refreshes ensured that our messaging and visuals resonated with our target audience which boosted our engagement and conversion rates.
3. Conversion improvements & bidding strategies testing:
We started importing first-party CRM data back to the platform. With the gathered insights, we initiated multiple machine-learning tests that helped us optimize lead generation and improve lead quality, within all types of campaigns.
To enhance the accuracy and effectiveness of our conversion tracking, we revamped our system to draw data from IvyWise's Customer Relationship Management (CRM) platform. This overhaul allowed us to eliminate all instances of double conversions within the Google Ads account. This not only improved data integrity but also bolstered budget efficiency by an impressive 80% to 100%.
For our Performance Max campaign, we also delved deep into the historical data to understand the true worth of leads. In our research, we developed a formula that correlates the responses in the lead form to the lead's probability of conversion.
Building on our insights, we launched a Machine Learning test within Google Ads, utilizing the newly developed formula. The formula proved instrumental in optimizing our approach to lead generation.
Facebook Ads
In 2022, we also reintroduced Facebook ads into our strategies. During this period, our campaigns encountered a significant challenge due to a bot attack. To tackle it, we implemented campaign optimizations and integrated third-party tools, ultimately gaining control over the situation by the end of 2022.
In 2023, we started building custom landing pages (LPs), which was a pivotal turning point that yielded remarkable results for both our Google and Facebook paid efforts.
Our approach in our Facebook Ads strategy was also as comprehensive as our Google Ads strategy, ensuring full coverage across various stages of the customer journey. We had 3 campaigns:
Blog Ads for Top of the Funnel (ToFu) audiences:
These ads captured the interest of potential customers in the early stages of their journey with IvyWise.
Prospecting Campaign for Middle of the Funnel (MoFu) prospects:
The campaign targeted prospects who were further along in the decision-making process, presenting them with tailored content and incentives to explore IvyWise's services in greater depth.
Remarketing Campaign for Bottom of the Funnel (BoFu) audiences:
Our approach involved using a custom landing page specifically for this campaign. We observed that numerous BoFu users were converting on multiple occasions across different web pages, leading to Facebook counting these conversions twice. This skewed our lead quality. However, by implementing the dedicated landing page for remarketing, we successfully eliminated the issue and we reduced double conversions. This step was crucial, increasing the quality of our leads and, for the first time in the account's history, bringing working leads closer to the point of conversion.
In addition to these campaign strategies, we carried out audience segmentation, distinguishing between parents and students as two audience groups. This segmentation allowed us to draw clear contrasts in terms of activity and engagement levels for both cohorts.
The results revealed that parents consistently had higher conversion rates. As a result, we made the strategic decision to entirely eliminate student-targeted ads and focus our efforts on the more promising parent audience.
Thus, we narrowed down our target audience to include only the most high-priority segments based on factors such as geolocation, annual income, and interests.
Other PPC Platforms
Our overall approach with this account also included actively exploring and testing various platforms and higher-risk strategies.
We started experimenting with platforms that were less conventional for our client's sector, such as TikTok Ads, Spotify Ads, LinkedIn Ads, and YouTube Ads. While our budget for these platforms was relatively limited, they served as a playing ground for testing new audience segments.
While we were scaling and optimizing Google Ads and Facebook, these new channels allowed us a playing ground for experimentation. This holistic approach allowed us to maintain a delicate balance between innovation and efficiency, continually striving to uncover new opportunities while refining our existing strategies to drive success for IvyWise.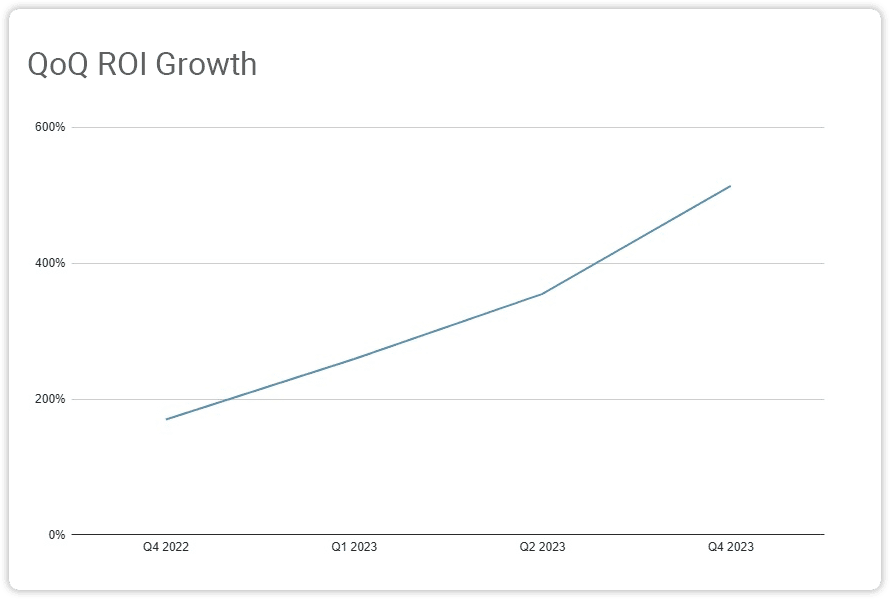 In Q4 of 2022, our efforts led to a ROAS of 170%, indicative of a favorable return on ad spend. Subsequently, in Q3 of 2023, we achieved an impressive ROAS of 514%, marking a triple increase in ROAS within the span of just one year.
The ROAS is calculated as = (Won Revenue in that period) / (Ad Spend).
Additionally, the introduction of Custom Landing Pages (LPs) proved to be a game-changer in IvyWise's PPC strategy. These efforts resulted in a substantial 49% reduction in Cost Per Lead (CPL), significantly enhancing cost efficiency. Moreover, the implementation of Custom LPs effectively doubled the number of qualified leads, demonstrating the significant positive impact of this strategy on lead quality and overall campaign performance.
Overall, our collaboration with IvyWise has evolved into a true partnership, where we have seamlessly integrated into their marketing team and taken on a multifaceted role. As their trusted marketing partner, we now actively advertise their blog content and spearhead the marketing of new services.

If you need help with paid campaigns, explore our PPC services.
I wished we would have worked with Hop Online sooner. We were lacking a strategic partner focused on the success of the business and helping us achieve our own goals.

Since partnering with Hop Online for our SEO and Google Ads strategy we've seen a really impressive turnaround in our organic traffic and conversions. Hop Online truly is a strategic partner constantly identifying new ways to improve our ROAS and give us the tools and data we need to make informed decisions about our ad strategy and budget.

Anna Berry, Executive Director of Marketing at IvyWise