How Effective Is Chorus' Interlinking Strategy?
The value of a backlink and the amount of equity it can transfer to other websites is among the top signals that Google and other search engines use to determine a page's ranking in the SERPs.
Although internal links don't boost your website's authority, they still excel at funneling existing authority and relevance from your backlinks throughout your website.
Let's take a look at a real-life example of how a SaaS business' content and internal linking strategy can play a key role in organic traffic, SEO rankings, and conversions.
About Chorus
Chorus – a leader in conversation intelligence – is an AI-driven platform that helps sales and customer success teams gather valuable information from client conversations. This data can then serve as the foundation of a successful coaching strategy and offer insights into the voice of the customer.
Simply put, the platform is geared to action, manage, record, and transcribe calls in real-time to drive team performance and develop stronger customer and prospect relationships. What's even more, the product is simultaneously marking key action items and topics arriving at critical moments of these sales calls.
Each sales call is stored in Chorus' Conversation Cloud, allowing for greater analytical possibilities and fostering wider collaboration across the entire organization.
On their website, along with their exhaustive feature list, the company's customer-focused content strategy is standing out. Most evidently, their State of Conversation Intelligence Q4 2020 report is a good example of how to take your business goals and use content as a primary means to achieve those goals.
What is Chorus' Content Strategy?
Strategically positioned on their Resources page, the Q4 2020 report is a fantastic example of how a SaaS company can leverage first-party data to generate truly unique content.
Here, the company is successfully utilizing a massive volume of information that's coming directly from their product, and – because they have proprietary access to this data – they have a real competitive advantage.
After all, being able to access, manage, and use your own data is arguably the best way to better optimize your campaigns, elevate the user experience, and maximize results.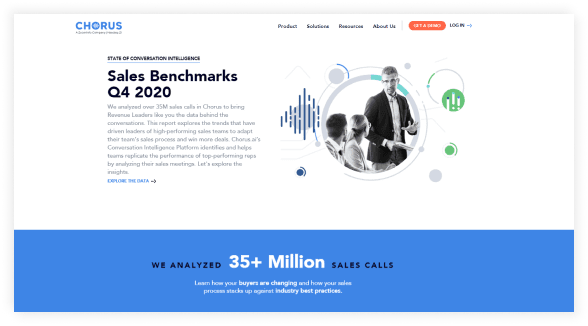 Source: chorus.ai
Diving deeper, Chorus has presented the different areas of the report under their Relationship Intelligence section. Right off the bat, it's apparent that the platform is focusing on speaking to C-level management.
Underneath, in the Performance Intelligence section, visitors can further see how they benchmark against others in their category.
At the bottom of the report, Chorus is prompting visitors to "get a consultation". While this might appear to be one of the more unconventional SaaS call-to-action examples, using this type of CTA can be an effective way for direct lead generation.
How Effective Is Chorus' Interlinking Strategy?
In a nutshell, internal links are links from one page to another on the same domain. Done well, internal links can guide visitors to relevant, high-value content, pass link equity from one page to another, and prompt users to take action.
Taking a closer look at Chorus' Q4 2020 report page, it's becoming noticeable that different sections of the report are living under unique URLs.
Effectively, this means that they are driving only a fragmented type of inbound links to those pages instead of driving all inbound links to a single page from which they can be distributed throughout the website.
Here's a quick overview of their ahrefs report.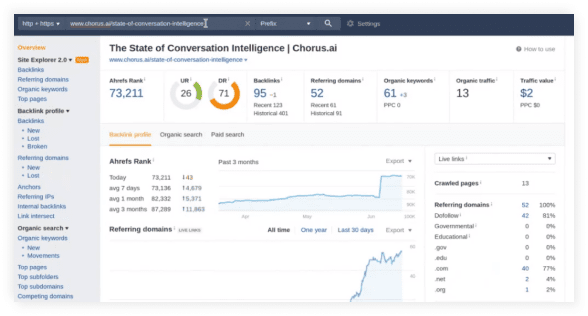 Undeniably, for a Q4 2020 report, Chorus has an impressive number of backlinks (95). Equally impressive, they also appear to be coming from 52 different referring domains.
Backlinks, or inbound links, signal search engines that others vouch for your content. The value of these links determines how much SEO power each link passes through to your website from the URL it's linking from.
Consequently, high equity backlinks help to improve your SaaS SEO and increase your overall search visibility.
Ideally, you want your links to be coming from high domain authority websites that are trusted by both search engines and search users. In the case of Chorus, they have 59 groups of do-follow links and a large number of high quality, high domain inbound links.
At the same time, however, there are only 13 organic visits per month with a traffic value of $2.
So, why aren't they ranking and bringing organic traffic?
Seemingly, the company has failed to consolidate all the content under a single URL. While the report might be an immensely useful link-building content, having many different URLs is hurting the brand's SEO.
Effectively, linking to unique and distinct URLs is diluting the power of link equity, as well as the SEO power of these links.
To achieve a greater ability to re-distribute the link equity from a root URL into your other pages, you need to direct all those inbound links into that one single URL.
Additionally, to boost conversions that originate from that link equity, consider distributing the link equity into some of your lower funnel pages. Think about pages that have proven to have a low bounce rate and a high conversion rate.
Leveraging Backlinks to Improve SEO Rankings
Chorus does an amazing job with their content and proprietary data, but the big mistake they're making with SEO is not consolidating all this link equity into a single URL.
On a roll? Here's how to use backlinks to grow your SEO rankings.