Lomit Patel is the Chief Growth Officer of Tynker, part of BYJU'S, the world's largest tech company. Tynker is one of the pioneers in coding and ed tech learning for kids, boasting 60 million users across 150 countries.
With 20 years of experience helping startups grow into successful businesses, Lomit has previously played a critical role in scaling growth startups such as Roku (IPO), TrustedID (acquired by Equifax), Texture (acquired. by Apple), and IMVU (#2 top-grossing gaming app).
Lomit is a public speaker, author, and advisor with numerous accolades and awards throughout his career. He's been recognized as a Mobile Hero by Liftoff.
He recently published his book, Lean AI: How Innovative Startups Use Artificial Intelligence to Grow, which is part of Eric Ries' "The Lean Startup" series.
The book provides practical advice on how innovative startups use artificial intelligence and automation to grow.
Key Takeaways from the Podcast Episode with Lomit Patel
• (6:02) Tynker's marketing approach behind its kids' coding software
• (7:49) When to draw the line from a freemium to an upgraded paid version of your SaaS product
• (8:27) How to introduce the paywall to your freemium SaaS product
• (9:14) How to choose the right pricing for your SaaS product
• (12:51) How to power your ads with your users' data at different stages of the buyer's journey
• (18:03) Why educating customers is a game-changer
• (21:12) How to grow to have healthy customer LTVs
• (25:55) How to increase the conversion rate of free to paid users
• (29:28) How to encourage users to create UGC
• (33:13) How can you get more done with less?
Join us in our #100th episode, as we delve into the world of kids' coding. We'll decode the strategy behind Tynker's successful marketing approach.
Learn how to harness the power of user data in your ad campaigns. Plus, discover the transformative impact of customer education.
And don't forget to subscribe on your favorite podcast platform for more practical tips and stories! ⏳
Show Notes
In our 100th episode, Lomit Patel, the Chief Growth Officer of Tynker, a kids' coding ed-tech company, uncovers Tynker's successful marketing approach.
The focus of Tynker is to provide reasons for students to learn to code and engage them in coding. The company relies on relationships with over 100,000 schools and districts to introduce young learners to the world of coding. Schools use Tynker's freemium version to teach students programming and computer science.
With the paid subscription, kids can take their coding knowledge to the next level outside of school. Tynker aims to attract more parents' accounts as a target group, and when parents become aware of the product, they naturally add their children to the account as well. Once the child reaches a paywall while using the product, the parents become aware of their child's progress on the app, and Tynker relies on the parents to upgrade the account to the paid version.
How to Introduce a Paywall to Your Freemium SaaS Product
"And with any Freemium product, the balance is trying to figure out how much to give away for free and where to expose the paywalls, so that once a child gets enough value-added product, they will naturally hit a paywall and at that stage, the parent gets notified that they would need to upgrade into the paid," explains Lomit. In other words, the question is, how do you walk the freemium tightrope?
Lomit advises businesses to look at their entire user journey and observe their high lifetime value users – what are the common behaviors and actions that led them to become loyal users of the product? This is a key strategy to understand what your users need and when it's best to introduce a paywall.
Tynker nailed it by creating 5,000 classes and courses, progressing kids through the different levels, and introducing the paywall at just the right time. The company's goal is to get kids started with the first couple of levels and then implement the paywall at that stage.
Don't overcomplicate pricing for your SaaS product – Lomit recommends trialing different prices through A/B tests to find the right price point.
How to Increase the Conversion Rate of Free to Paid Users
If you want to monetize your product, adding a paywall is a great way to start. But you are probably wondering how to get more people interested in using the paid version. The solution to converting more free to paid users lies in creating a stellar onboarding experience, according to Lomit.
Ensuring a smooth and enjoyable onboarding experience for users isn't just key to getting more people interested in purchasing your product; it's also key to getting them excited and motivated to use it!
Every parent that buys the plan doesn't have to worry about making their child excited to use Tynker. That's because for its onboarding, Tynker introduces live coaching sessions, a hybrid learning approach that became the company's main differentiator on the market. With these sessions, kids learn how to use the product, and as a result, they quickly see its value.
Coming up with multiple ways to monetize users, and having bundled offerings, such as Tynker's live coaching sessions offered as an add-on to the user's subscription, can help you increase your LTVs (user lifetime value) and improve user retention and engagement rates.
How Tynker Stands out in Customer Education
What keeps customers coming back for more is that Tynker relies on customer education during its onboarding process.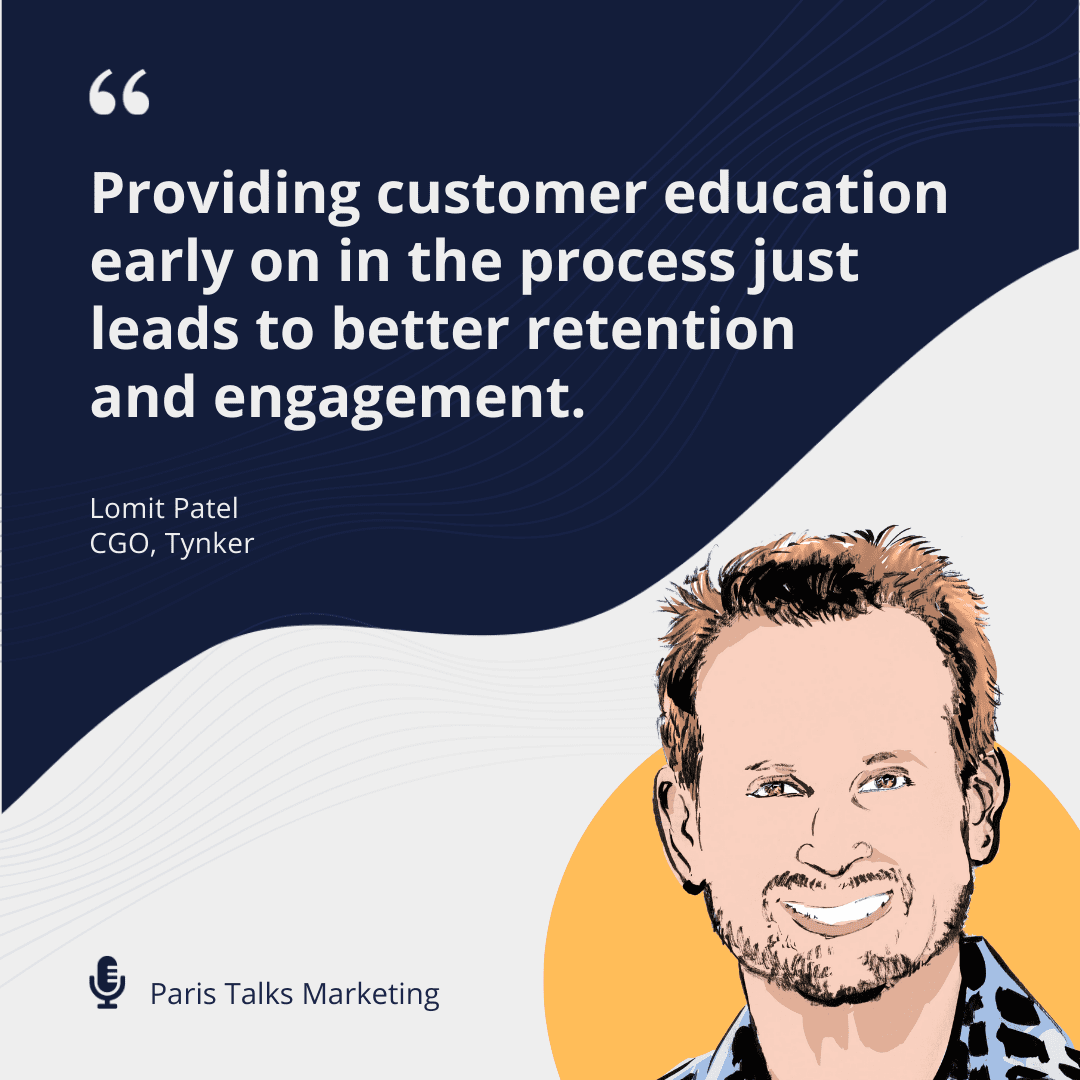 The company's focus is on constantly improving the onboarding process for Tynker users and helping them get started on using the product.
Tynker also motivates children to stay engaged and build their skills by providing them with a supportive community where kids can share their projects and progress with others for additional inspiration and encouragement.
How to Encourage Users to Create UGC
Creating a community can be a powerful tool for user-generated content (UGC). Tynker encourages its users to share their projects on the platform and relies on its community for more user-generated content.
By showing the progress of other kids who have used Tynker, the hope is to get kids, and their parents motivated to stay engaged with the product. The community is seen as a key factor in this, as it is a supportive and social environment where users can share their projects and encourage each other in their learning process.
How to Get More Done with Less
As a final takeaway from our episode, Lomit, the author of "Lean AI," gave us insight into how to get more done with less. The book, "Lean AI," was written based on the premise of streamlining manual and inefficient processes in a large team at IMBU.
Lomit believes that technology should be leveraged to help teams become more efficient and nimble in executing tasks quickly. He advises finding the right MarTech stack to continue to execute, test, learn, and iterate at a faster scale.
Companies that do well in an economic slowdown are those that increase their velocity of learning by running more experiments and getting better insights faster than competitors.

Discover more about Tynker's unique approach to revolutionizing kids' coding in our 100th episode. Get insights into the importance of customer education and how it leads to better engagement and retention. Listen to the full episode now.