It's time to break free from the endless chase of shiny tactics and growth hacks that lead to burning money without results.
There's a smarter path to market domination: scalable systems and processes firmly rooted in the marketing basics. Mark Osborne shares the keys to predictable growth – setting up systems in your organization that could have your revenue and pipeline doubling in just 90 days.
No more throwing money at ads or frustrating over low-quality leads. With B2B Growth Systems, you're in control.
Having systems is the key to scaling your business.
Tune in now to hear about Mark's B2B SaaS Growth Systems bridging the gap between Marketing, Sales, and Customer Success teams!
Recognized by AdAge Magazine as a "Marketing Technology Trailblazer" in 2017 and a #1 Best-Selling Selling Author on B2B Marketing and Sales, Mark Osborne brings decades of experience integrating Sales, Marketing, and Customer Success for Early-Stage SaaS, Tech, and B2B / Professional Services Firms.
Mark has delivered tens of millions of dollars in revenue for his clients, often doubling revenues and pipeline in 90 days through his focus on building revenue systems that emphasize strategic building blocks of Competitive Advantage.
He is the founder of Modern Revenue Strategies, which offers a "10X ROI B2B Growth Guarantee" – if you don't see a 10X return on your investment with them within 6 months, they'll give you your money back.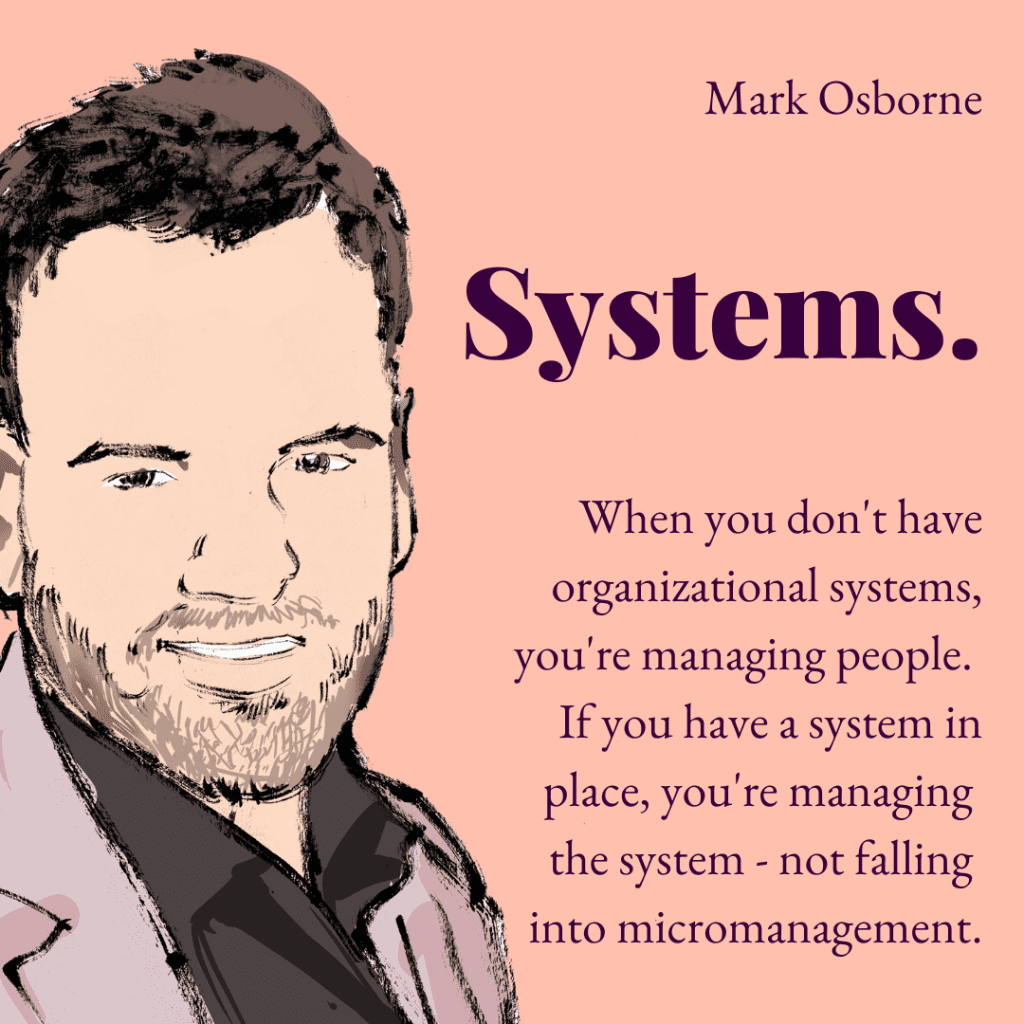 Quote from Mark Osborne on Episode 114 of Paris Talks Marketing
Here are some of the key topics that Mark and Paris discussed in this episode:
• 00:00 Intro
• 02:45 How mark guarantees a 10 X ROI B2B growth
• 05:33 Why you should focus on these 3 systems for B2B growth
• 07:02 Why you must have systems in your organization
• 08:05 Example of a revenue system Mark has helped a company build
• 12:41 How to get marketers to focus more on lead quality instead of volume
• 16:42 How Google's value-based bidding shifted the focus from volume to conversion value
• 20:30 Demand gen & lead capture: Create demand as you capture demand
• 22:29 Grow at all costs is in the past; now is the time to do more with less
• 23:24 How to identify competitive white space opportunities
• 29:34 Are you shifting as the market changes?
• 31:14 The state of the SaaS industry
• 35:00 How to build a system in your organization and why it removes silos
• 37:24 How can you document your systems and make people follow them
Resources Mentioned:
1. Mark Osborne, Are Your Leads Killing Your Business?
Mark gives the first 50 people who click on this link a copy of the book for free:

2. Seth Godin, The Dip
3. David Jenyns, SYSTEMology: Create Time, Reduce Errors and Scale Your Profits with Proven Business Systems
4. Michael E. Gerber, The E-Myth Revisited: Why Most Small Businesses Don't Work and What to Do About It

With different themes, each PTM podcast episode provides a well-rounded perspective that includes our host's own insights.
Don't miss out on the Marketing Strategy theme of our podcast!