The Ultimate Guide To Ubersuggest 2.0
When your SEO content doesn't increase traffic – and it seems like you aren't seeing ROIs – it can be frustrating. Professional SEO tools will help you choose the right keywords and optimize your expenses. Because they can cost hundreds of dollars each month, however, not every company can afford them.
Fortunately, there is an alternative: Ubersuggest. This free tool can help significantly increase traffic. In this review, we cover how to use Ubersuggest for keyword research to its fullest potential.
What Is Ubersuggest?
Acquired by Neil Patel in 2017, Ubersuggest is one of the best free keyword research tools with an intuitive interface that provides real-time data about your focus keyword.
Generating long lists of suggested and related keywords (based on Google's Suggest feature), the tool also reveals the top-performing competitors for each of these keywords, their traffic, social shares, and their domain authorities.
In 2018, an updated version of the tool (Ubersuggest 2.0) offered new features like Keyword Overview, Keyword Suggestions, and SERP Analysis.
What Ubersuggest Does for Your Business
With Ubersuggest you can:
Discover potentially profitable keywords to target with a content marketing strategy. Instead of guessing, you can view which keywords will increase traffic and revenue and see which are wastes of your money and effort.
Understand broad searcher intent around a core topic. When you see the list of suggested keywords, you'll have a better understanding of what your customers are searching for.
Decide which keywords NOT to target (based on irrelevance, competition, and/or low search volume). Some keywords might seem like great ideas at first, but with Ubersuggest, you'll discover that some are so popular that it's impossible to compete for them.
Find inspiration for new content ideas, based on what people are already looking for.
What Are the Benefits of Ubersuggest?
Ubersuggest provides real-time keyword suggestions from both Google Suggest and AdWords recommendations.
You can analyze keywords by the following criteria:
Search Volume: shows an approximate amount of searches for the keyword per month. You can view the number of searches, as well as the distribution of monthly searches. The graph reports whether the keyword is gaining or declining in popularity, or whether it's affected by seasonality.
SEO Difficulty: reveals how difficult it is for the keyword to rank in organic search results. A high number indicates that will be hard to compete with other sites. The best choice is usually a keyword with an SEO difficulty of less than 60.
Paid Difficulty: reports how difficult it is for the keyword to rank in paid search results. The higher the number, the more you'll need to pay to make your ad visible to potential customers.
Cost per Click (CPC): shows an estimated price that you'd need to bid on this keyword.

How to Use Ubersuggest For Your Keyword Research
Start with a Seed Keyword
Go to the Ubersuggest site and enter the seed (i.e. main) keyword into the search box. This keyword is your foundation for finding the right supplementary keywords.
First set the target language and the country (you can always change this later) and type the keyword you think is the most relevant for your business. Be sure to choose something that prospective customers are likely to search for. Ubersuggest then scrapes real-time data to provide accurate stats for this phrase.
Try different combinations to find the best keywords for your site. Let's choose "digital marketing" as the seed keyword and see where we can go from there.
Build a List of Suggested Keywords
After typing the seed keyword and clicking "Search", Ubersuggest generates a list of suggested keywords from Google's Suggest algorithm.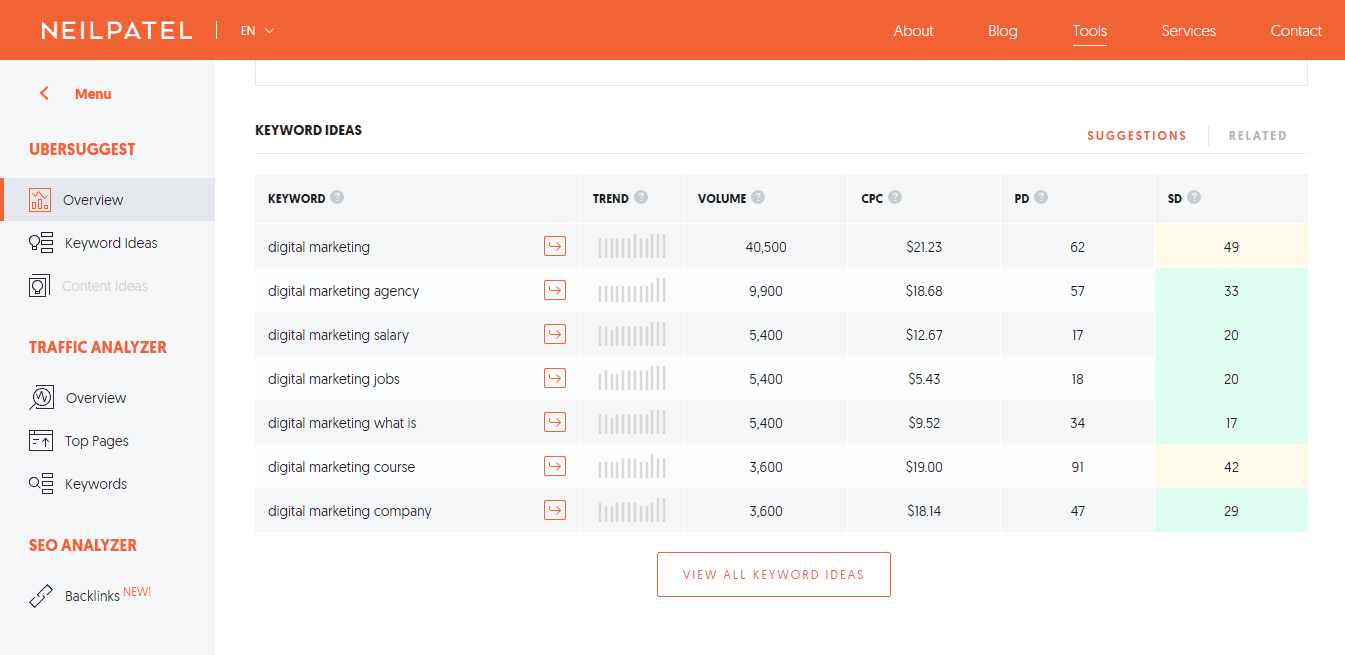 Let's choose and click on one of the suggested keywords, "digital marketing agency". On the right side of the screen, Ubersuggest shows you the Google SERP (Search Engine Results Pages) for this keyword.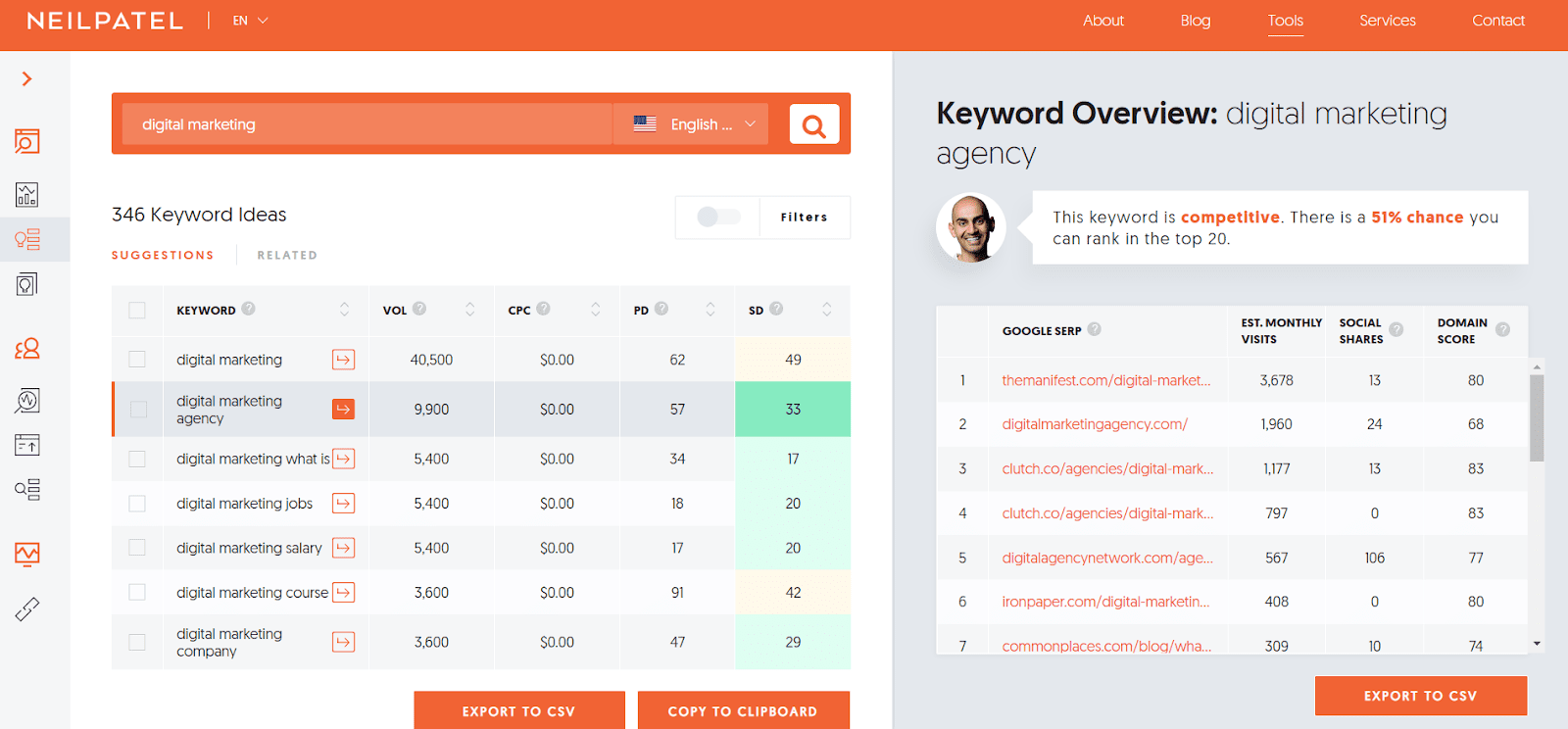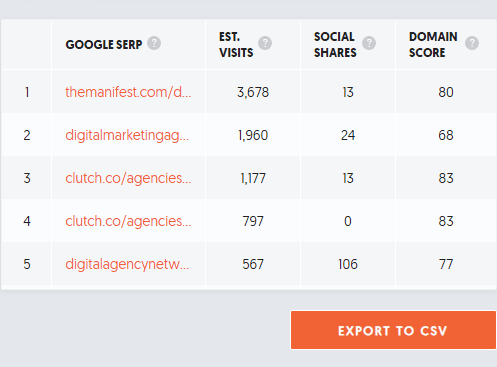 Explore the Google SERP Data
For each keyword, Ubersuggest provides a quick analysis of what's displayed on the first page of Google. With this list, you can view up to 100 sites that rank highest for each.
What you see in the Google SERP section is basically the list of your most successful competitors. If the top results in the SERP analysis have a much higher domain score than your website, you probably won't be able to outrank them for that specific keyword.
Along with the real-time SERP results, the tool also provides the estimated visitors to the top-performing sites for that keyword, the number of shares on social media, and the domain score of the website based on its backlinks. Analyzing these results, you'll gain a pretty good understanding of how difficult it'll be to rank for any keyword.
How to Use Ubersuggest Filters
Another great feature in Ubersuggest is Filters. Use them to organize suggested keywords and make your research more effective.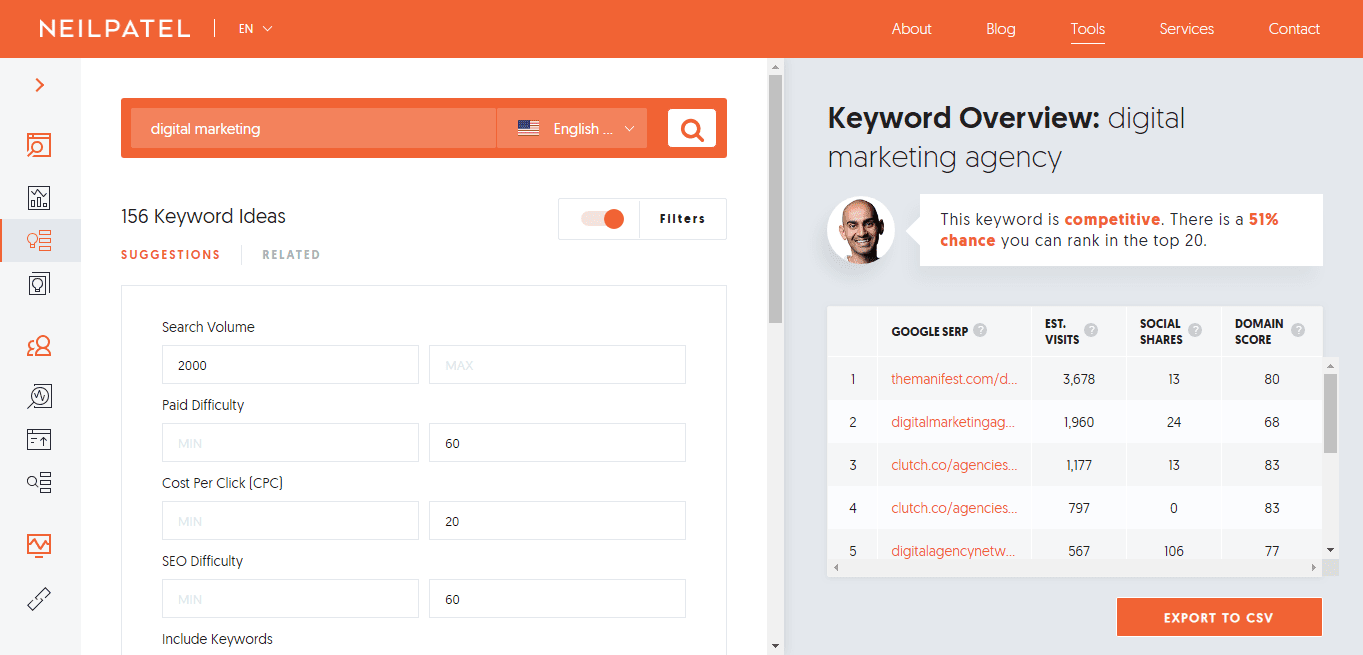 Search Volume
You can set your minimum search volume per month. Let's say "2000".
Paid Difficulty
This filter is great if you want to view the keywords with paid difficulty under a certain number (e.g. 50, 60)
Cost per Click (CPC)
Set the maximum CPC that you're willing to pay (e.g. $20).
SEO Difficulty
Ask Ubersuggest to reveal keywords with SEO difficulty of less than 60.
Include Keywords
Add any extra keywords you want to use.
Exclude Keywords
Filter out keywords that are irrelevant to your business.
Click apply and see the results: instead of 156 suggested keywords, you have four and you can continue your analysis from here.
How to Choose the Right Keywords
Ubersuggest's user-friendly interface and data visualization make it easy to discover which keywords are best for you. These are the ones that should:
Have medium/high search volume
Be trending
Have great cost-per-click (CPC) if you're searching for Google Ads keywords
Have low/medium SEO difficulty (no higher than 60).
Remain within your domain score in Google SERP
Pro Tip: Spy on Your Competitors
Another way to help your SEO efforts is to review your competitor's domain name. You'll be sent directly to the Traffic Analyzer tool and will be able to spot the top keywords your competitor ranks for by volume, position in the SERP, estimated visits, and the SEO difficulty factor. We highly recommend analyzing this information and using it for your SEO strategy.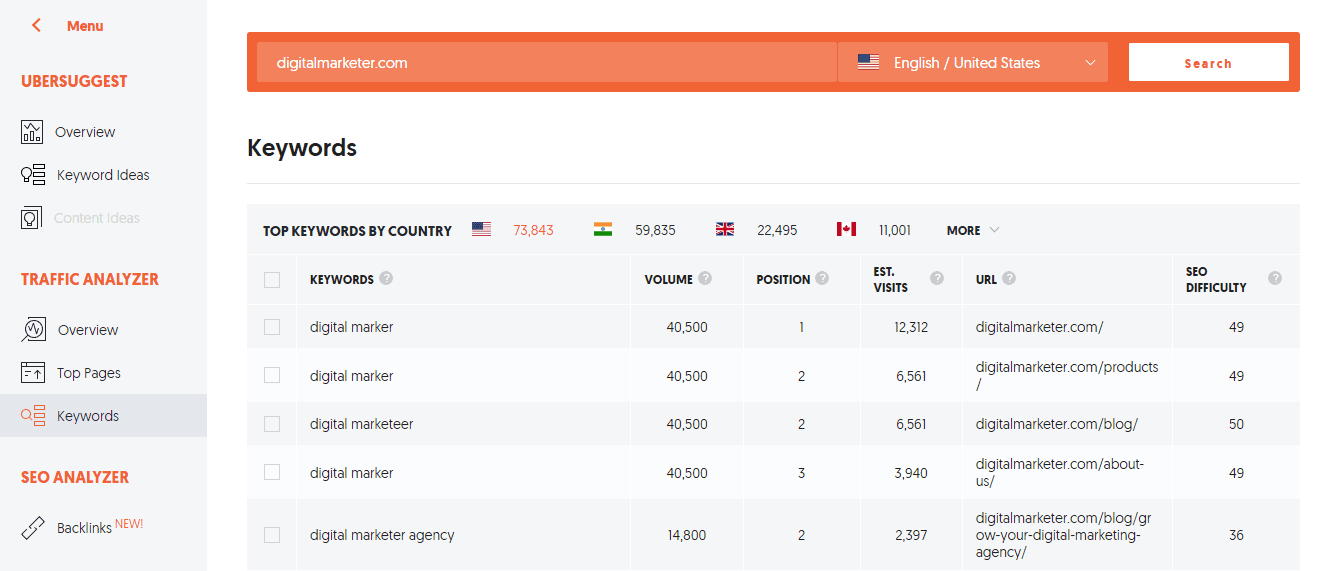 Build Content Around Your Lists of Keywords
After choosing the best keywords for your site, create compelling content by:
Employing your primary target keyword in the title of your piece.
Structuring your text around the most popular subtopics. Be sure to incorporate some variations of your primary target keyword in the section headers (sub-headers).
Using closely-related keywords in headers, link anchor text, meta-descriptions, and alt tags.
Avoiding "overstuffing" of keywords and keeping a natural flow of text.
Ubersuggest Is One of the Best Free Tools for Keyword Research
Ubersuggest can help anyone find the right keywords for their site by suggesting hundreds of options (along with search volume, cost-per-click, and seasonal trends for each). When you're able to see your competitors' strategies, it gives you ample opportunity to get ahead of the competition.
This free keyword tool is comparable to almost every paid alternative – use it to build a stronger SEO strategy, increase your traffic, and boost your ROI.
Need More Inspiration?
Discover how Hop Online's digital experts can leverage your content marketing efforts!