Gym, Weight Loss, New Skills: How Businesses Can Capitalize on New Year's Resolutions
Lose weight, exercise more, learn a new skill: these are among the top new year's resolutions that people make. Below, you can see the search trends for some of these terms in Google and the obvious peaks in January. Unlike in e-commerce, here the season starts after the holidays end.

If your business involves fitness, yoga, weight-loss centers, dance or language schools or personal trainers, the Christmas lights may be coming down, but now is your time to shine. We'll discuss marketing strategies so that your business can benefit the most from this post-holiday season peak in sales and traffic.
But if your business doesn't fall into these categories, don't give up on your resolutions just yet: the New Year's Resolution Strategy can be applied to other businesses as well. Read more on this strategy: Your New Year's Resolution Strategy: Tap Into Consumers' Desire For Improvement. For you, we'll focus on local businesses and small improvements in your marketing strategy will put you in the right place.
Be In Front of Your Users When it Matters
Imagine your future customers on the first days of the new year. They'll be tired after the holidays, sleeping in late or relaxing before the next family lunch – and browsing on their mobile phones.
You might find them reading greeting cards or a new book, texting friends and family, or searching for the best way to keep the new year's resolutions they've made.
In these moments, if it's your business that shows up in the search results when they look for "gym in my area" or "weight loss personal trainer near me," then whether the monthly gym membership starts a lifelong fitness regime or ends up sitting ignored in a wallet before Valentine's Day, you're in a great position to take advantage of their resolutions and draw in customers ready to make a purchase. (Making sure your customers stick to their resolutions is between the two of you.)
So how can you make sure your business is at the top of the list?
Make Your Business Number One Among New Year's Resolutions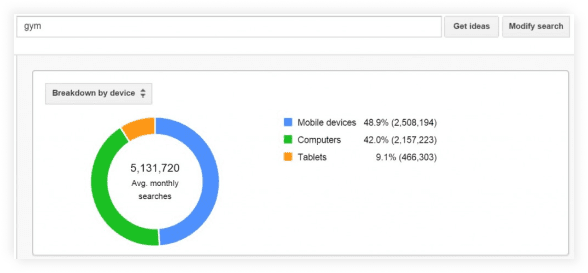 To make sure your business appears first for our new year's resolution-makers, check out this list of the top features your site needs to take advantage of the post-holiday optimism.
Your website needs to be mobile-friendly and optimized for browsing with smart phones (see some more mobile UX tips here). Check your website's mobile compatibility with this Google Mobile Test Tool. Be aware that mobile (smart phones and tablet) searches now outnumber desktop searches worldwide.
Below, you can see that searches for "gym" are split: 58% on mobile vs. 42% on desktop
Your site needs to load fast, so invest in a good hosting provider. (Just like users, Google also gets frustrated if it has to wait for a site to load. Users simply bounce back to the search results and Google puts you lower in its rankings.)
Make sure you're in the Google Maps/local results. Users will search for a gym or personal trainer in the areas they either work or live in. When a user indicates a specific place in their search query, Google shows map results and indicates venues that are closer to their location (especially when browsing by mobile phone where Google can identify your location.) For more details on how to rank higher in map results, check the section on optimizing your site for Google Maps results from this post.
Optimize your Google ads for local and mobile searches in order to get the most targeted traffic at the moment users are searching and making purchase decisions. Here are some tips on mobile ad optimization. The most common mistakes are targeting too wide an area – you should target only the region you service – and not having a "CALL" button.
Advertise locally on social media (Facebook). Make sure your ads are targeted at only the region you serve. Choose your target audience wisely and offer discounts. You'll be able to reach people who haven't even started searching for your services.
Provide useful resources to grab users' attention and help them learn about your brand. These resources might be the ones you choose to promote on social media, instead of promoting your service directly. For example, an article on "Five easy exercises to keep you fit" or "Three yoga poses to do at the office" will be directly targeted to your potential customers' pain points and is likely to make them click.
We know your #1 resolution is growing your business. Do you have specific questions about implementing the strategies above, or a special request you need to discuss with an expert? Feel free to contact us and we'll be happy to be of assistance!