Your Search Intent Checklist: What to Watch Out For
Search intent is the 'what and why' of a query. When you type a query in the search engine, it triggers Google's algorithm to find the most relevant results in no time. Your marketing strategy can succeed only if your content fulfills the search intent at each stage of the sales funnel.
Who doesn't know about Steve Jobs, right? If you Google his name, you get a knowledge panel with his complete profile. But now, add a keyword modifier 'buy,' and check out the results.
Now Google shows you links to buy his books. And, look at that knowledge panel; now it's a preview of a book on Steve Jobs.

Google's algorithm understands search intent quite accurately. It can pick your brain merely through the words of your query, and you can do so too. Let's see how.
Four Types of Search Intent
Google wants to rank all the pages according to their relevance to a search intent rather than the keywords used. Therefore, to top the SERP, you should understand different search intents to optimize your content accordingly.
Informational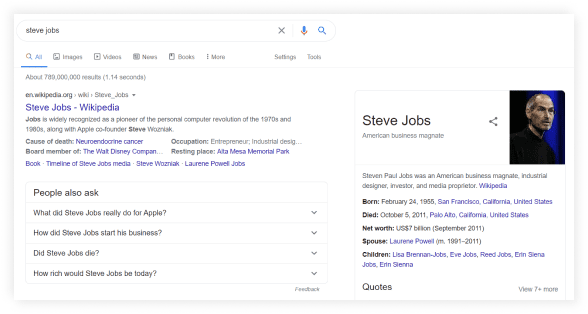 Most of the online queries have informational intent. These searchers are usually looking for educational content such as how-to guides, tips, ideas, or video tutorials for specific questions.
People may be looking for weather updates, the latest movies, general information like who is the CEO of Apple, or the president of French Polynesia… you name it!
Navigational Intent
Navigational intent is the easiest to understand. The users know the website or the specific product they are looking for and want to reach it quickly. They may not remember or know the exact URL they're trying to reach.
For example, Google understands that when a user types in 'Apple,' he is looking for the Apple gadgets and not the fruit unless he specifically writes 'apple nutrition or 'apple benefits.'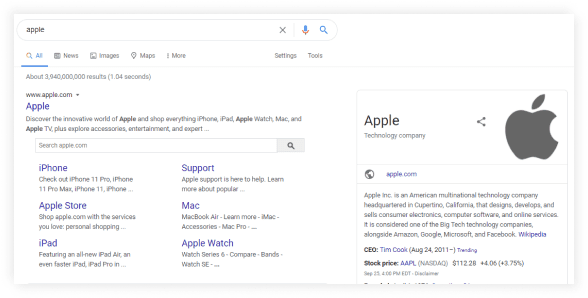 Therefore, there's no use targeting such keywords because they can only benefit you if the user is specifically looking for your website. Yoast's example of navigational intent is related to a Google Analytics plugin they had. While they ranked pretty well for the term "Google Analytics", that didn't drive any traffic to their site. People searching for Google Analytics were simply looking for the GA's website, not the plugin.
Transactional Search Intent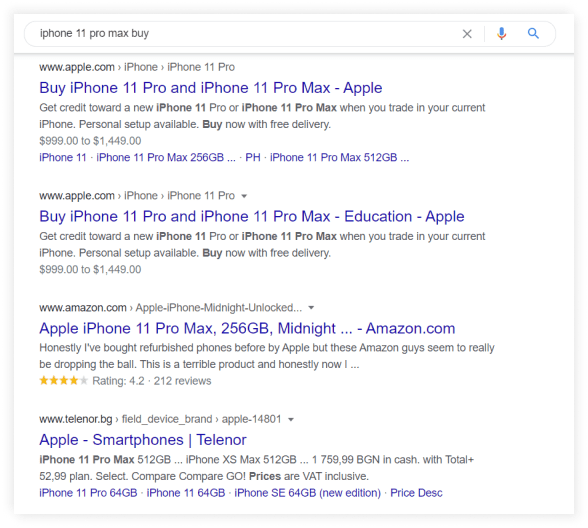 Transactional queries relate to search intent when the user is determined to make a purchase. By this time, they usually know what brand or product they want to buy. Transactional keywords are usually brand names or product names, such as 'Boya m1 Mic,' Oppo Reno 4,' or 'Dell Inspiron 15.' You may also find these keywords with modifiers such as buy, pricing, order, avail, purchase, deal, or discount to get specific results.
Commercial Investigation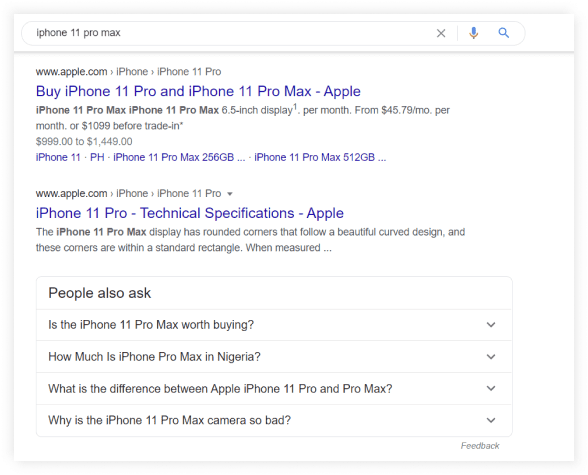 The commercial investigation is when researchers know a little more about the products and brands they are interested in but still need more information to reach a decision. The searchers look for the best deals, consumer reviews, brand or product comparisons, etc.
The commercial investigation also includes local searches for services or products like 'best restaurants near me,' 'cheap beds near me,' or 'best plumber in [town].'
Search Intent Checklist: SERP Features to Watch
Google's business depends on connecting people to the most relevant and authentic information quickly. To this end, Google has introduced many SERP features that typically show up before the organic results and give a quick answer to your query without requiring you to click on any link.
For example, when you search for a movie, you see most of the relevant information in the graphic panel at the right.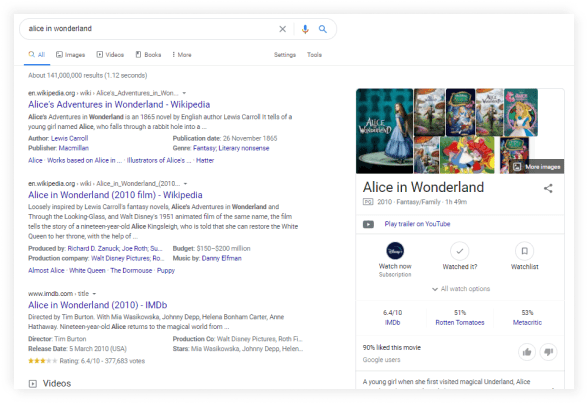 This panel is one of the many SERP features, including knowledge panels, image carousels, reviews, videos, and featured snippets.
Imagine the traffic boost you can get if your page appears in SERP features. But, for that, you will need to optimize your content to meet the search intent to the T. And that's precisely why SERP features are the most accurate way to judge the search intent of a query.
Let's see how you can find out the search intent behind the keywords you wish to target.
1. Assess the Ranking URLs
Analyze the top URLs to determine the specific keywords those pages rank for. Also, note the page layout, word count, and content type. Are they listicles, blog posts, image posts, or product pages because it gives you an idea of the kind of content you need to create to rank for the same keywords.
2. Look at the Domain Authority of the SERP Winners
Domain Authority (DA) depends on many factors, but the quality of backlinks to your site is the most significant. But remember, Google rewards the quality of your backlinks and NOT the quantity.
If high-authority domains rank for specific keywords, you can judge whether your website has a chance of out-ranking them or not.
Also, note their loading time, mobile optimization, the presence of other high-ranking pages, and other sitewide signals like social media shares, brand name mentions, etc. Google considers them all when it comes to choosing between two high-authority domains. You can use Mozbar or Ahrefs Toolbar to find out these attributes quickly.
3. Are There Tons of Videos?
When you search for a keyword, note if the top results also include videos? The featured snippet can be a video, or you may get a video carousel. If the results are mostly blog posts, it's worth checking how many of them have embedded videos. If a SERP is dominated by videos, it's highly unlikely that you can rank for that query with a non-video content.
For example, if you search 'learn video editing,' you get a couple of ads and then a video carousel for YouTube tutorials.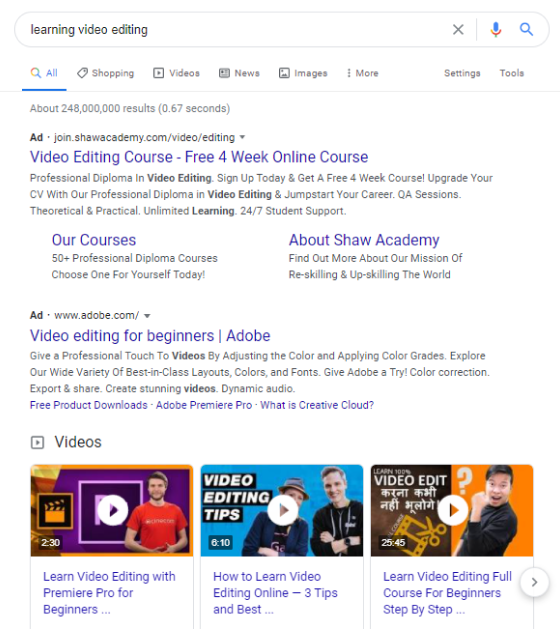 4. Check for Carousels
Google shows carousels for images, videos, products, books, movies, personalities, and whatnot!
Carousels may also show refinement bubbles that continue to expand until the users find what they are looking for. Since the product carousels are typically location-based, it makes sense to optimize your product page for the locations you serve.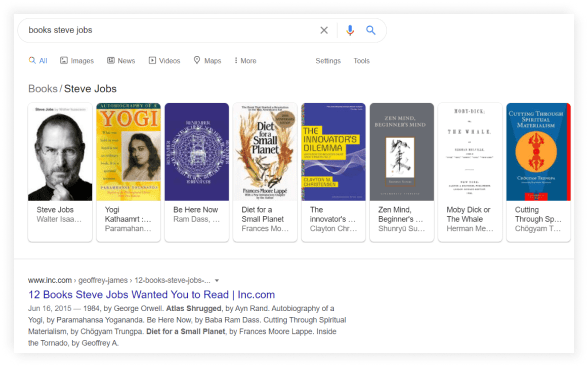 5. Is There an Answer Box?
Quick Answer Box is always at the top of SERP, above organic results, and quickly answers the searcher's questions.
According to Google, the quick answer box is to "help people more easily discover what they're seeking, both from the description and when they click on the link to read the page itself."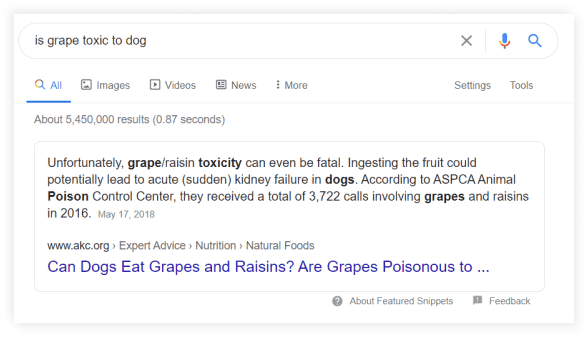 Check out the site that appears in Google's Answer Box for your target keyword. Usually, these websites show the following qualities:
High-authority domain
Theme-relevant answers
Capable of answering multiple questions
Match the keywords of the user intent
6. Find Inspiration in the PAA
Did you know PAA (People Also Ask) shows for 85% of the total searches and steals more clicks than paid ads or other SERP features?
PAA can occupy different positions for different queries, depending on the keywords. If you search 'Nike shoes under 2000', you will notice that the videos take the top place, followed by image carousel and PAA.
On the other hand, if you search 'error 403,' (a common window error), you will see that the PAA jumps to the top result. Google understands that people may require more clarity for technical terms, and hence it shows PAA up top.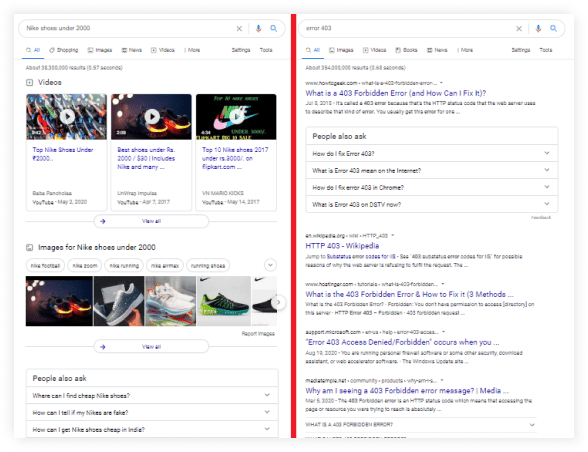 PAA is the best source to get an insight into the users' thought process and the purpose of their search.
How to Fulfill Search Intent
After analyzing major SERP features and intent types, ranking at the top of SERP is just halfway across. Here's a checklist you can use to optimize your content for search intent.
1. Pick a Catchy Title
Topping the SERP is the ultimate dream for many, but it turns into a nightmare if you top the SERP but fail to boost your CTR.
Generate a click-worthy title by including the keyword. However, make sure that your title clearly shows that you understand the search intent behind that keyword.
Notice the titles of the rankings URLs and create as many titles as your creativity allows. Then, pick the one that aligns with your topic and brand voice the best.
2. Answer the Question Right Away
Answering the query right away increases your chances of getting picked by the SERP features. If you analyze the PAA section on Google search results, you will know that the top sites answer the query right away and get more clicks, leads, and engagement.
When you answer the query right away, it grabs users' attention and assures them that they're at the right place.
3. Get to the Point
You promised to fulfill your readers' search intent, they clicked on your title, and now your content needs to deliver. There are thousands of blogs on the same topic. Don't give your readers an excuse to drift away from you.
Utilize an inverted pyramid scheme to stay focused on the topic and sustain reader attention. Refrain from fluff, complicated jargon, and repetition. If users spend time consuming your content, it signals Google that your content fulfills search intent and is suitable for the search query's keywords.
4. Add Scannable Headers
Not everyone who comes to your website will read the entire blog post. Most people skim the article to decide if it's worth reading before they start reading the descriptions. Others only read the headers they find interesting.
In fact, only 16% of the users read articles in detail, but if you add scannable headers, the percentage goes up to 58%. Amazing, isn't it?
Divide your blog into sections and write descriptive subheadings. Present information in bulleted lists, make separate paragraphs for each idea, use white spaces to grab the readers' focus, and add a concise summary at the end.
5. Use Multimedia to Enhance
Did you know human brains need only 1/10 of a second to understand an image, whereas it takes 60 seconds to read a paragraph? Adding relevant images can increase the CTR rate to 47%. On the other hand, videos can snag three times more traffic for your blog post.
Therefore, sprinkle attractive and informative images, charts, and tables throughout your content. Using relevant images for each section improves engagement and explains complex ideas in simpler terms.
6. Include Actionable Instructions
If the users read your entire blog post, pat your back because they found your content interesting and useful. Now that they're involved, grab the opportunity and engage them more. Figure out the logical steps for your users after they've read your blog.
Put yourself in their shoes, judge their mindset, and provide them instructions for the next steps.
For example, if they just read about healthy eating benefits, why not direct them to some healthy recipes on your channel? Add internal links to relevant pages, woo your readers some more and build a long-term relationship through content marketing.
7. Add an Actionable CTA
Add a call-to-action (CTA) that enhances your business goal or the goal of that specific blog post. The CTA should be actionable and encourage leads to convert, for example, buy your product or service, download stuff from you, subscribe to the newsletter, or even share your content.
Add whatever makes sense for your page and purpose, but it should be actionable, simple, and benefit the readers somehow. Ultimately, the purpose of adding CTA is to boost your conversions or increase your reach.
Google's algorithm is forever evolving, and the ranking factors keep changing. Google doesn't appreciate keyword-stuffed content anymore. It demands and rewards content that meets users' search intent and answers their query.
Ranking your web page in the top search results is a bit tricky, but if you can align your content with the search intent behind a keyword, things get easier and simpler. Optimize your content according to our search intent checklist, and don't forget to share the results with us!
– – –
This is a guest post by Karli Jaenike. Karli is a content marketer and co-founder of boutique agency JuiceBox. With over 10 years in the marketing industry, she's worked with brands large and small across many industries to grow organic traffic and reach new audiences. She writes on everything from content marketing, social, and SEO to travel and real estate. On the weekends, she loves to explore new places, enjoy the outdoors, and have a glass or two of vino!